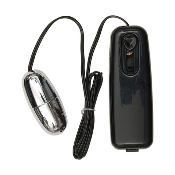 Ahh, the "Silver Bullet". This is a pleasure party staple item and any sex toy party that does not include a silver bullet in its demo should not be considered a home adult toy party!
The Silver Bullet is a vibrating egg-shaped gadget connected by a cord to a controller. On the controller, you will find your options to choose it's intensity. As you can see on the image to the left, this bullet has a simple heart-shaped slider that goes from mild to intense. When turned all the up with fresh batteries, the vibrations can be super strong. Watch out!
The silver bullet pictured here is your traditional bullet. Only 2 AA batteries are required, found conveniently in your remote control, if need be. Some bullets are cordless. The cordless ones mostly requires small watch batteries. These batteries can be hard to find at a decent price when shopping at a grocery or drug store.
So, on to the purpose of silver bullets. You have your general massage use. You can add vibrations to a massage either with your hand or inside a deluxe massage mitt. Turn it up a notch in the bedroom with oral sex by putting the egg to your cheek to make your mouth vibrate. Put the vibrating egg under your chin to make your tongue vibrate. Vibrating bullet eggs can also be used genitally for some seriously stimulating sensations! On a man, move the bullet up and down the shaft making sure to put some focus on the head and the underside of the head (frenulum). And don't forget the lonely balls! The balls LOVE to be tickled and massaged. Wanna really turn him on? Try going underneath the testicles when he is erect and push the bullet up a little into his body. You'll be massaging his P-Spot (prostate) from underneath. See? Bullets are certainly not just for women.
So, for women…ahhhh. There's only one thing to do. (Well, of course there are hundreds of things you can do!) Apply the vibrating bullet to the clitoris and you'll be lifted to a new found place up in the clouds and only an orgasm can bring you back. If you don't know where the clitoris is, just google female anatomy diagram. And you're welcome! The silver bullet can also be used as a teaser to go around the clitoris in a circular motion. Go on and stimulate the butt area. There are nerve endings everywhere that will get you hot and excited. Either use it yourself or have your partner use it on you. Be sure you use a good lubricant for an extra slick and smooth sensation. You can also add an accessory sleeve, like a bunny sleeve which can take away the cold metal feeling and add more smoothness and stimulation.
I would be extra careful inserting a bullet vaginally or orally. Some pleasure consultants may tell you its okay. But, I'd rather be safe than sorry. You never know if any wiring is faulty or has small breakage that can cause injury.
So if you're looking for a simple, but versatile, toy – A silver bullet is the way to go! I always recommend it for first time toy buyers. It's a perfect and approachable starting point to get familiar with sex toys and what they can do for you.
Enjoy!
XOXO Pascale