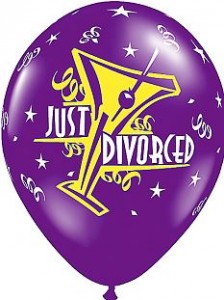 So I'm starting my presentation at a sex toy party and I let the guests know about my parties. They're free, they're fun and you get free products. Yada, yada. Then I let everyone know what type of parties I do. Girls Night "In", Ladies Brunch Parties, Bachelorette Parties and the occasional "Divorce Celebration" – STOP. Laughter. A few hands raise and some point at others. It's a FABULOUS idea! Divorce Parties!
Our sex toy parties, with a focus on the divorcees, are a flipside to bachelorette parties. The papers are done, the divorce is final, she's been through the hardship and now she feels releif. She's a new woman and it's time to celebrate!
What happens during a divorce party? There are a few things that are different. First off, we take a little focus off the couples toys and men's toys. This is definitely NOT about him. Secondly, we put a little focus more on pampering oneself. Sweet scented bath and body products are shown and passed around. We talk about the importance of taking care of oneself. We show products that make you feel sexy! Pheromone dust powders, sensual body dew sprays and bathtime fun toys, just to name a few. Then we get into the main event – TOYS! Rabbits, beavers, dolphins, butterflies, you name it! Our dual-action vibrators are amazing stress-relievers and can help get a woman through the night, if you know what I mean. Dual-action vibrators are the kind that combine clitoral and penetrative stimulation.  Single or not, a dual action vibrator is a must-have! Not into the shaft-like toys? How about a silver bullet? I hear reports over and over of women being able to orgasm in 2 minutes flat thanks to these little pleasure gadgets. So, yes – products get passed around and guests can order.
A big fun factor to a divorce party are the games! Our divorce party games are meant to bring the group together and bond with "girl talk". Yes! Prizes are included too! 🙂
Please Note: We do not bash men or ex-husbands directly at our parties. Instead, we celebrate women's independence and self-care. It's important to talk about the details of the party, the divorcee and the guests BEFORE the party so we can customize a perfect experience! 🙂
Are you interested in hosting a Divorce Party? Do you know someone who feels newly liberated and is ready to party? Fill out our Host a Party form to get your party started.