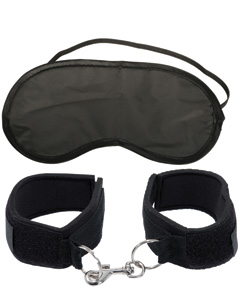 Sometimes women take a look at restraints, whips and other bondage items and think – Oh, I could NEVER play with that! Now, I'm talking simple cuffs and small crop-type fantasy toys. Forget the ball gags and duct tape for a sec and let's get down to the basics. If you are a bondage queen who loves to get down with everything from ball gags to clamps and dungeon pieces, this article is NOT for you.
I just want to introduce my average customer, a new guest at a party, to the intriguing and sexy world of bondage fun! I mean, edibles can only take you so far. That bottle is going to run out sooner or later, that is if you don't get bored of it and stop using it. But fun bondage items can be used over and over with different scenarios. Bondage can excite your bedroom lifestyle in a whole new way!
I've also heard tales of where bondage helps to build trust and communication in the bedroom for couples who began exploring it. So, let's look at a few examples:
* Your hands are tied behind your back. You are restrained from touching your partner. They are teasing you and touching you where you most like it. But there's nothing you can do. You WANT to return their touches to just rub their backs or upper arms. But you just can't. You are restrained. And you have no choice but to lay back and allow your partner to tease and please you.
* You bring a blind fold into the bed. It's been a long time since you've made love in complete blackness. It feels strange. And why do your partner's touches feel so much more intense? Why can you smell their familiar and comforting scent so much stronger? Why does their body taste so much better? And their breathing sounds much heavier?  It's because when you take away a sense (in this case your sense of sight), all your other senses become stronger. This type of sensory play can be very exciting and super sexy.
* You've purchased some fun items to spice up the bedroom, say at one of our parties! Not only did you buy a feather tickler, but you also bought a rubber tasseled flogger (fancy name for a type of bedroom whip). All your intentions are for your partner to use them on you. You want to experience pleasureable pain. Or maybe some painful pleasure? Let's say your partner gets behind you and you both move slow. VERY slow. The focus is on your backside. The feathers tickle, then the whip stings. They go deeper. You feel tickle then sting then tickle. So simple, yet so sexy!
* Maybe you want to be wildly tied to your bedposts and have you lover take complete control of your 'helpless' self. They're going to be strict with you. They're going to not let you orgasm when you want to the most. You must do what they say, or else punishment will ensue.
Maybe you like it rough? Don't worry, this is a hugely popular "like". Go ahead and have wild hair-pulling, crazy wild sex! In the case of role play, you'll want to agree on a code word that really DOES mean to stop. Something totally unrelated. "Stop" is not a safe word. Neither is "Ouch!". Go for the traffic light concept. "Yellow light" means caution. And "Red Light" means stop.
So, have fun and be safe! The possibilities are endless in bed and the options are all yours to explore!